August is proving to be a busy month. I have my first Book Week appearance next Thursday at Parklands Primary School. I'm looking forward to presenting three sessions to the students:
A closer look at Beyond Our Garden Gate– The story behind the story and using imagination in nature play,
A workshop to assist students in turning their ideas into well crafted stories, and
A workshop which will focus on the 'use of senses' to make writing interesting.
I hope to use examples from the two middle grade novels I've been working on and some stories of mine which have been picked up by The School Magazine.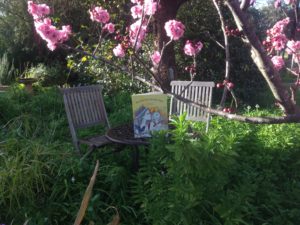 On the 28th of August, we will celebrate the launch of Beyond Our Garden Gate in Albany. Leanne White will also launch her beautiful picture book, William the Wild Builds a Cubby. It will be an afternoon of Devonshire Teas, a guest performance from King George Sounds and nature play activities for the kids in the garden.
Keep fingers crossed for us for a sunny afternoon!